In 2016 the last Land Rover Defender rolled off the production line, marking the end of an era spanning almost 70 years.
The Defender is thus the longers lasting car in production in history.
There are of course questions to be asked as to how it manages this amazing feat?
During those 70 years, our motoring habits have changed beyond all comprehension.
Originally conceived as a British version of the Willys Jeep that worked so well in the Second World War, Defender filled an important niche and 70 years later, still represents difficult boots to fill.
The Defender in all it's forms, 90, 110, Series, 1, 2, 3 & 4 as well as TD5 offer unrivalled load capacity in tandem with 4×4 capability that no other vehicle can currently equal.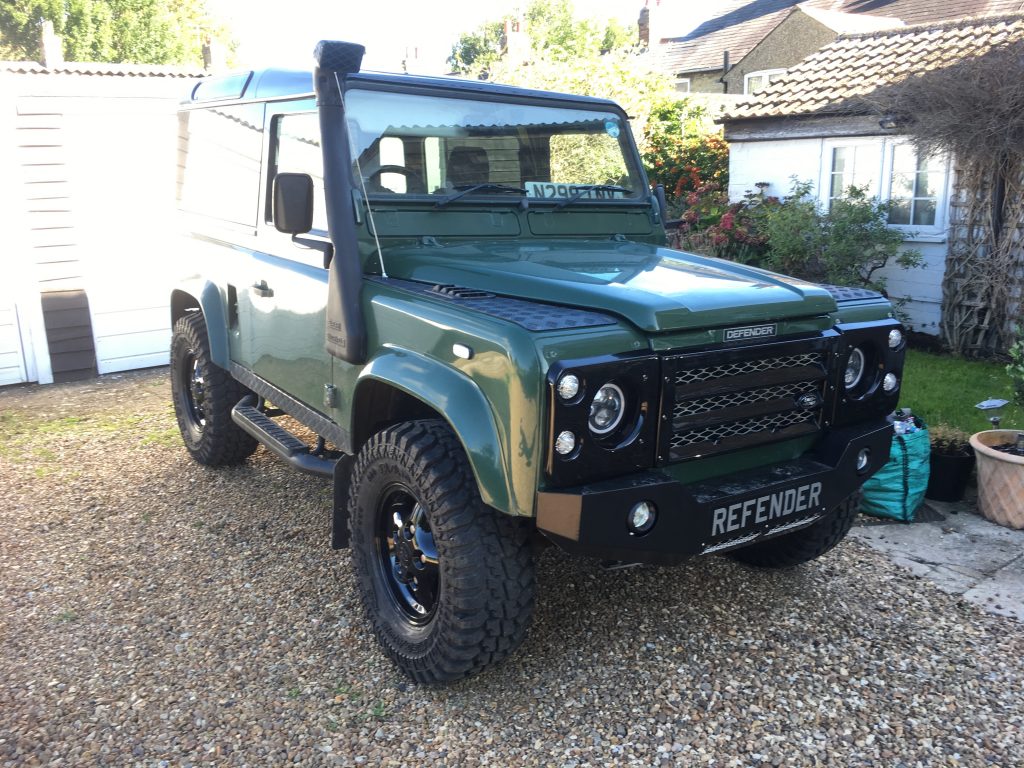 A long term favourite for our electricity, gas and telecoms services companies who need to get heavy equipment and tooling across difficult terrain, what vehicle are they going to use from now on?
Will the new Land Rover Defender replacement due for release sometime on 2018/19 be up to the task?
Defenders have Character
There are many reasons why the Defender has remained so popular. Once they get under your skin, they become treasured family friends, despite their short comings, occasional unreliability and aging technology.
Rebuilding & Maintaining A Defender
Since Land Rover announced that production was coming to an end, prices of second hand defenders have started to climb.
There are some crazy examples online of standard as well as highly modified 90 & 110 Defenders commanding massive prices.
The Defender is just as at home on the Kings Road as it is in the highlands of Scotland tending sheep.
What other vehicle can fulfil both of those roles?
Rebuilding a Defender
Th great advantage of a standard defender is that it's relatively easy to work on. This is why they are so popular across the world, even in the most remote regions.
In a country without electricity, you can't plug in a diagnostic computer to fault find? Instead, you need a vehicle that needs nothing more complex than a spanner to maintain.
Everything on a Defender is easily unboltable and changeable.
This provides a straightforward way to update, upgrade and replace worn or damaged components as well as quickly and cost effectively facelifting your Defender.
Making Wise Upgrade Decisions
Choosing great looking upgrade components to improve your Land Rover can be a tricky decision.
There are hundreds of options available to create a totally bespoke defender including; engine upgrades, bumpers, bulkhead replacement bars, roll cages, LED lighting, spot lights and light bars, wheels and tyres, suspension, rock sliders, seats, windows, steering, winches, brakes, security, checker plate and even dashboard upgrades.
The wrong components will give your Defender a less impressive appearance, whereas choosing the most ideal upgrade parts will enhance your vehicle, adding value and making it more reliable, more useable and more practical for everyday use.
Ask www.bespokedefender.co.uk for their advice and assistance and you will protect the investment you make in your defender.
With years of experience developing the Defender, they will guide you to the vehicle you truly desire.